NEW YEAR, NEW FACES AT HFC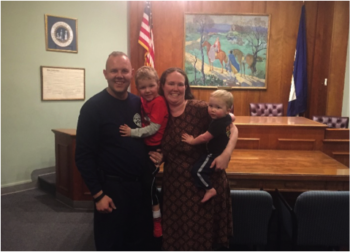 On Tuesday, January 23rd 2018, at the Commissioner's Meeting at Borough Hall, Mayor Neil Rochford swore 3 young gentlemen – 1 member and 2 explorers - into their respective probationary positions in front of their friends and families. Commissioners Kasko, Moscatelli and Officials from the Borough were in attendance, in addition to Chief Sam Trotman, Asst. Chief Tim Green, Explorer Advisor Lt. Joe Dunn, FF Nate Finnegan and non-active member Butch Brees all whom were representing HFC. Joe Lambert, a resident of Cherry Hill expressed a desire to help others for some time. With Cherry Hill covered by its full time paid fire department (CHFD), Joe was directed by CHFD to seek application with Haddon Fire Co No.1, a volunteer department, that was close to his residence. Joe is married to his wife, Kelly and have two sons.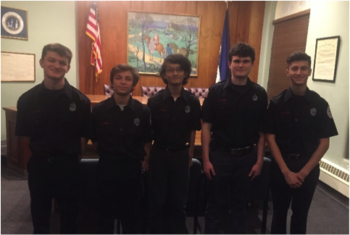 Daniel Zhang and Jack DeFeo, both currently sophomores at HMHS will fill out the 2017/2018 class of explorers/jr. Firefighters by joining the current complement of 7. Daniel is a tennis player and enjoys being an active member of the digital arts club. Jack is a lifelong resident of Haddonfield is a Star Scout with Troop 811 of the Boy Scouts of America. Current Explorers John Springer, Declan Carthy and Joseph Walls were also in attendance showing their support. The officers and members of Haddon Fire Co No.1 congratulate Joe, Daniel and Jack and wish them well!
Craig Maull 1946-2017
It is with deep regret that Haddon Fire Company No. 1 announces the passing of Craig Maull who served with Haddon Fire Co for 50 years (1967 - 2017). Craig served as a Lieutenant, Captain and Trustee during his time as member and often could be found working around the station. Craig's death is being considered as a Line of Duty Death as a result of a medical emergency following a fire call on Tuesday, December 19, 2017
Craig graduated from Haddonfield Memorial High School in 1966. He proudly served in the U.S. Army during Vietnam and was a member of the American Legion Post 38 in Haddonfield, NJ. Craig was also a member of the Pinewood Antler Gun Club in Chatsworth, NJ.
Craig is the husband of Suzanne (nee Speich) of Haddonfield, NJ; Beloved father of Kevin (Rachael) and Keith Maull. Adoring grandfather of Ariel, Faith, Logan and Ryon. Cherished brother of Barbara (Bob) Keck. Loving Uncle to Sandra Sharp & William Keck.
Craig will be greatly missed by all of his brother and sister fireman at Haddon Fire Company. Rest in Peace FF Maull, we will take it from here.
Funeral arrangements are as follows: Viewing will be held on Friday, December 29, 2017 from 10am to 11:45am at Kain-Murphy Funeral Home located at 15 West End Ave., Haddonfield, NJ 08033. Services will follow at Noon. Internment (private) will follow the service at the Baptist Cemetery located at 402 Kings Highway East, Haddonfield, NJ 08033, across from Haddonfield Memorial High School. In lieu of flowers, memorial donations in Craig's name may be sent to Haddon Fire Company No. 1, P.O. Box 345, Haddonfield, NJ 08033
The public is invited to attend the viewing and service. Fire Department personnel attending should contact Chief Trotman at the station for additional details and logistics.